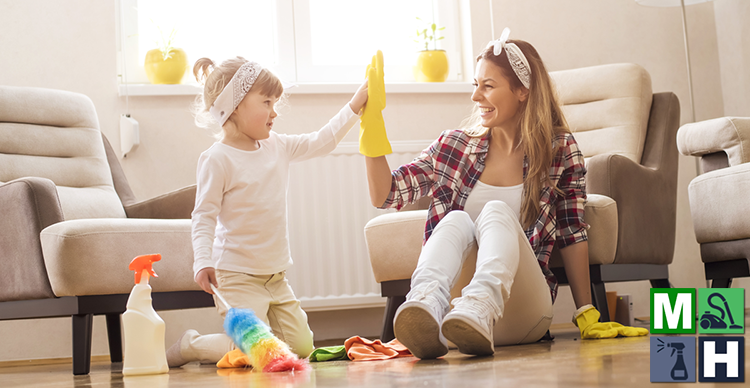 Cleaning Tasks You Can Finish in Thirty Minutes or Less
With everything that we must do these days, cleaning house often gets neglected. You may feel so overwhelmed that you don't know where to start. If this is the case, look for some quick house cleaning tasks you can do to give yourself that sense of accomplishment you need to get started. Build on these small successes, and before you know it, the house will be looking much better!
Start at the Front Door
After all, it's the first chance you have to make a good impression. Clean the front door, and you may find that you've got some extra time within the thirty minutes to clean another door or two! If you have glass in your doors, use window cleaner to make them sparkle!
Go Through that Pile of Papers
You know which pile I'm talking about, don't you? We all have a habit of putting papers aside to deal with later. Don't wait until it's a mountain… tackle it now, and it won't take more than thirty minutes and will help bring back a sense of accomplishment.
Run the Vacuum
Vacuuming a room should take less than thirty minutes… you might even have time to do two or three rooms. Running the vacuum will brighten up your carpets and give you some perspective on the situation. If you hate to vacuum, this is an easy chore to delegate to a child, and won't take them long either.
Clean Your Microwave
Does your microwave look scary when you open the door? Take a bowl of water with a little bit of lemon juice and microwave it for just a couple minutes. You'll be able to wipe it right down with a wet cleaning cloth. This secret will make your microwave clean and fresh smelling with a minimum of effort.
Dig Into Your Closet
Walk into your closet with a large trash bag. Start pulling out clothes you can donate and make more room in your closet. If it has shoulder pads, pull it out. If you haven't worn in all year, pull it out. Get rid of stuff that's not your size. If you're feeling super ambitious at this point, make a second pass and pull your off-season stuff and put it away until the seasons change. You'll feel more organized every day when you go to get dressed, and the closet is organized!
Ask For Help When You Need It!
At Maid Healthy, we're all about helping you to maintain a clean and healthy home. If we can help you with your seasonal, or even your day-to-day cleaning, let us know, and we'll assist with the project and have your home in tip-top shape before you know it!