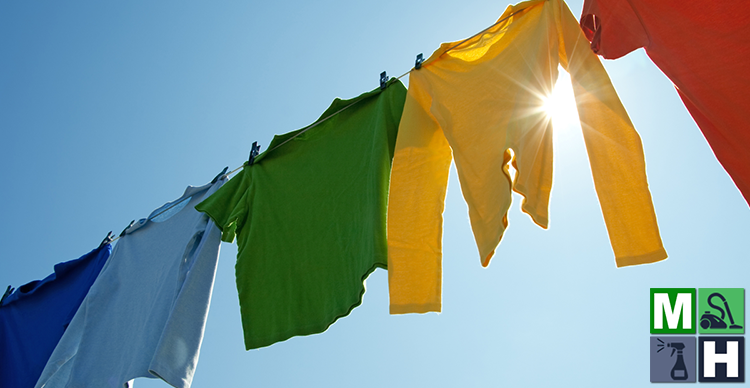 Summer Laundry Tips for Everyone
Summertime means splashy fun, kiddos running around in the yard, barbecues, and vacations. All that merrymaking can result in quite a heaping laundry pile. How can you make light work of this task? How can you get rid of stubborn stains? We have the answers to these questions plus other helpful summer laundry tips that help save time and money. That way you can enjoy this short season of fun!
From The Car Into The Machine
Trips to the pool or the beach are fun, and by the end of the day, everyone is usually pretty exhausted. Resist the urge to leave the wet towels or sandy blankets for tomorrow. Load up the washer as soon as you get home. Then unpack everything else and get cleaned up and ready for bed. By that time, the laundry will be prepared to pop in the dryer. You can fold it tomorrow! Trust us, this bit of work is much better than facing a mucky soggy mess first thing in the morning.
Pretreat Stubborn Stains
Even if the laundry sits for a day or two with the detergent on the stain, you will have a better chance of removing it than by ignoring it. If you want to get ambitious after you apply the pretreat detergent lightly scrub then let sit. Did you know that many everyday household items are excellent at removing stubborn stains? Click here to learn more.
Label The Load
Avoid laundry mistakes by labeling the load. For example, have you ever washed delicates to find that someone did you a favor by throwing it all in the dryer? Use a dry erase pen or a magnet or a post-it describing the washer's contents. It is a great way to remind yourself and your helpers how to handle that particular load.
Save Time and Money
Always wash a full load, and make sure to adjust the water level setting appropriately.
Wash clothes in cold water whenever possible.
Dry loads back to back to take advantage of the heated dryer drum.
Don't over dry clothes.
Dry heavy and light items separately.
Clean the lint filter after every load.
Wash laundry in the morning or at night when it is cooler.
Sort as you go, and it will save time when you're ready to wash.
Read The Labels
This is a tip to follow all year, but it is worth mentioning because in summer you will find a variety of unusual items. From bathing suits to delicate, lightweight dresses and linen; these are fabrics that require special attention.
Mildew Smell Rescue
Here's the scenario: you forget about a load of towels in the washer or decided after a long day to wash damp beach or pool gear until the next day, and everything now smells mildewy. What do you do? Simply pour two cups of white vinegar in the wash. It will neutralize the smell. How can you avoid this in the future? Perhaps next time set a timer on your phone to remember to switch out the laundry or attend to the pool and beach gear right away.
Fold Laundry in a Central Location (Right Away!)
If you leave clothes in the dryer for a long time after they dry they get wrinkly, and you have to rerun the dryer to fluff them. Save money and time by folding the clothes as soon as they are dry. Can't do it right in the laundry room? Take the chore out of the tasks by sitting in your living room and watching TV or listening to a podcast.
Final Takeaway
Hopefully, these summer laundry tips will help you make light work of what can become a daunting task. Our last bit of advice? Do a little bit of laundry every day, and put it away right away! Need help around the house this summer? Want to enjoy spending time with friends and family? Hire Maid Healthy to take care of the house cleaning. We have a variety of packages for any budget. Studies have shown that hiring a maid service makes you happier! Plus, you deserve it! Contact us today for a free estimate.