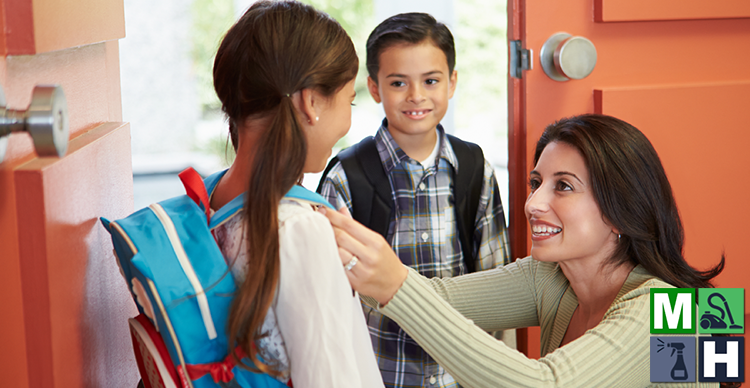 How to Get Organized for Back to School
Getting everyone ready to head back to school is an exciting time for sure. Time is spent preparing: buying school supplies, getting haircuts, filling out registration paperwork, sports physicals, etc. Often, housekeeping is the last thing on the list. That could make for quite a hectic first week. Who needs that kind of added stress? Honestly, even just the smallest changes can make a huge difference. Consider these tips for how to get organized for back to school. Say good-bye to frantic mornings trying to figure out what to wear, searching to locate book bags and homework, and throwing together last-minute lunches!
Clean Out Closets and Dressers
Back to school clothes shopping is a must in the weeks before heading back into the classroom. Before you head out, clean out everyone's closets and dressers. Donate items that are too worn, or that your children have outgrown before venturing out shopping. Doing so will help you assess specific needs. Make a list of what you all need and items that need replacing. Check your local store's sales ads and take advantage of tax-free shopping and coupons. Every little bit helps. Once you bring the new items home reorganize. Create sections in the closet for specific items. Designate dresser drawers. Consider using a shoe rack. The best way to have a stress free morning is to layout outfits the evening before, including socks, underwear, and shoes!
Restock Fridge & Pantry
Summer is over and back to school means time to pack lunches and after school snacks. This task could make or break any morning routine. Just like with your closets, purge your fridge and pantry. Make room for everyone's favorites and healthy treats by tossing out expired stale foods. Before you head out to the grocery store make a detailed list. You can use the trip to the grocery as a teaching moment. See it as an opportunity to introduce the family to a healthier lifestyle. Everyone may be more onboard if they feel they are part of the process. Once you return from the store organize everything. Pre-portion out fruits and veggies. Consider placing items in labeled baskets. That way you can encourage your kiddos to help pack lunch by selecting their favorites. Take it a step further and teach them how to make sandwiches. Before you know it, they will be packing their nutritious lunches!
Organize Your Entryway/Mudroom
Seems like the area at the front or the back door easily becomes a dumping ground for everyone's stuff: shoes, book bags, lunch boxes, sports equipment, etc. You can spruce up your entryway with easy-access storage for a less cluttered look. It also organizes everything so nothing gets "lost." Simply add a bench with storage, hanging coat rack, labeled storage bins, install shelves. These little touches make a huge difference!
Create a Homework Station
Having a special place for your child to do their homework can be essential to their success. A few elements to include:
Natural Lighting and Lamps
Labeled Bins for Organization
Create a designated time for your child to complete their homework every day. They may balk at first, but in a short time, it will become an integral part of the day!
Make Every Day Easy!
Follow these tips and get organized for back to school. They ensure smooth mornings and peaceful evenings. Want to make every day even easier? Hire Maid Healthy! Let us take care of the deep cleaning so that you can focus on what's really important. There are so many reasons for hiring a maid service that will make your life easier, and happier. Trust us, you deserve it!